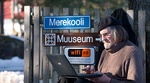 Director of Käsmu Meremuuseum (Sea Museum) Aarne Vaik in front of museum sign using his laptop.
Photo: Toomas Tuul.
Internet as global network is very important part of 21st century world. As we all want to show our things out good, so we have to look good in Internet, too.
Reisijutud.com represents small group of people, who work in networked world in some way and can organize things in Internet.
We offer:
Internet marketing, content management, web campaign consultations, Internet cources, build web pages, newsletters etc. Our good partner in physical networks is Wifi.ee. We and our partners, who have long media and press experience can help to open blog, create web news, post to social networks (Twitter, Orkut, MySpace, Facebook etc), compose a newsletter, press release or technical text.
And - we do video now! Check out Kaido Einama travel videos at www.youtube.com/kylamees.
Our works and envolving projects:
www.reisijutud.com - this is our main page
www.looduskalender.ee - most popular Estonian nature site known internationally
www.looduseomnibuss.ee - popular nature bus trip and concert trip organizer, their old web
www.kasmu.ee - fishermen village, museum and festival site
www.loodusring.ee - nature travels for youngsters
www.virufolk.ee - folk festival
Hotell Trapp - abandoned web
www.toomasvitsut.com - politician's campaign web
www.lahemaa.info - tourism farm
www.beritkontsert.ee - concert organizer
www.am.ee - business IT magazine since 1993
www.esku.ee - chapel
www.ehedad.ee - ecotourism union
www.tallinnatv.eu - their old web, municipal TV station
www.kultuub.ee - Tallinn 2011 European cultural capital project of new media
Please contact us, if You have any questions.
Kaido Einama
info@reisijutud.com
editor in chief of Reisijutud.com and AM.ee
MTÜ Reisijutud CEO